Posted by Rich Miron on Feb 10, 2015 under Uncategorized

Did you know you can enroll personnel in live classroom sessions through CentreLearn's online training system?

CentreLearn's easy-to-use Course Builder and Classroom Sessions functionality delivers an effective way for personnel to self-enroll in instructor-led training sessions and for administrators to track, manage, and record live or hybrid training.

You can use CentreLearn's Course Builder to create courses with live attendance components. Click here to watch an overview video or follow these step-by-step instructions:

1. Create Course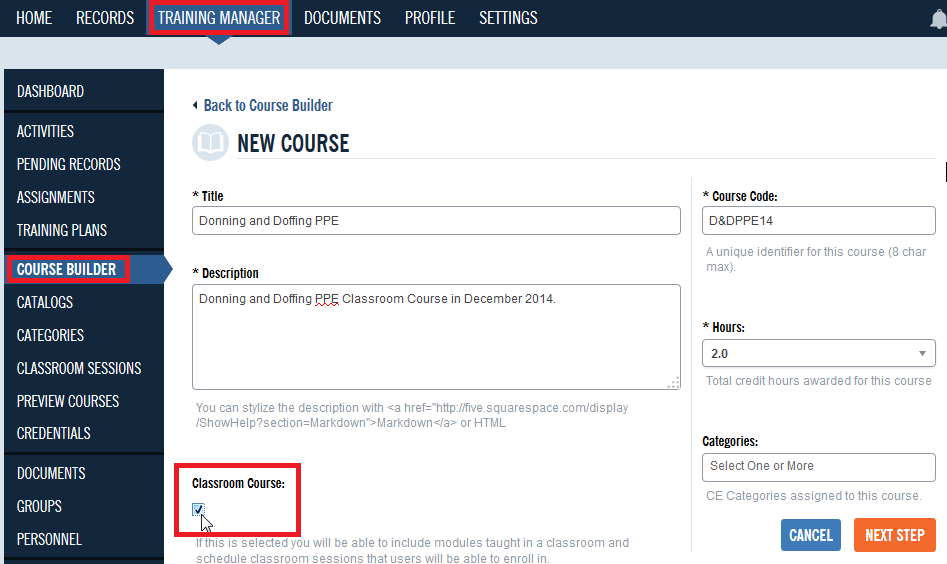 Go to Training Manager then to Course Builder on the left menu. Click the +New Course button in the upper right corner.
Enter the course information and check Classroom Course in the lower left side. This must be selected at this point – it cannot be added later.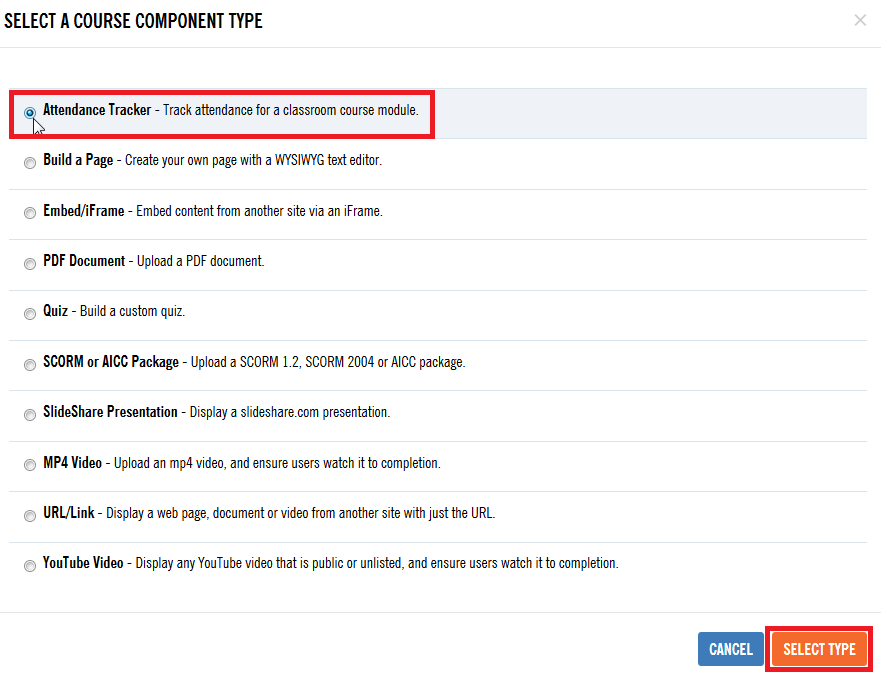 Click the orange Next Step button in the lower right side. Click the orange Add Course Component button, select Attendance Tracker, and click Select Type.
Give it a descriptive title and click Save Changes.
Click the Add Course Component button to add any other course components. Anything added after the Attendance will not be able to be viewed prior to attendance being checked as attending. Anything prior to Attendance may be viewed prior to session. Add multiple Attendance components to create a course experience that pauses for live/in person knowledge/skill checks.
Once your course has been built, click the orange Save and Exit button.
2. Create Classroom Session(s) for the Newly Created Course

Under Training Manager, access Classroom Sessions from the left menu. This is where classroom sessions are created and managed, including setting dates, times, and details for the course.
Click the orange +New Session button in the upper right side.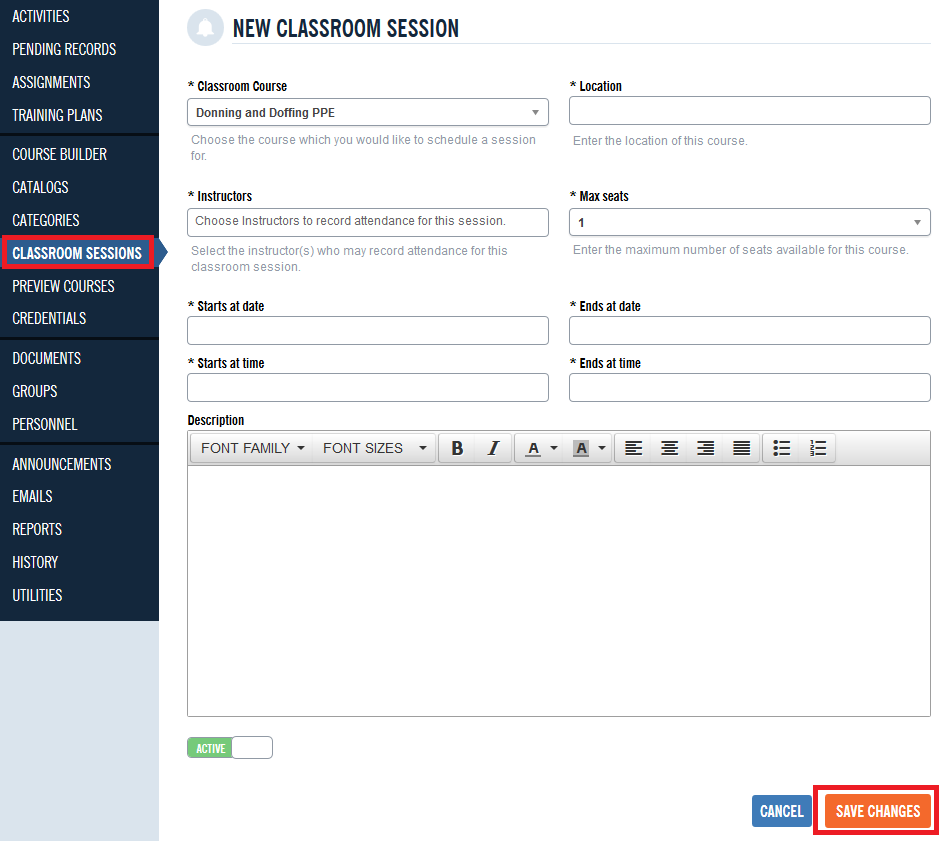 Choose which course you would like to schedule a session for, enter a location, choose the instructors, set the maximum number of seats, and date/time information. Once you are done, click the orange Save Changes button.
3. Create an Assignment for the Course
Go to Training Manager then access Assignments from the left menu. Select and create your assignment.
Courses with classroom sessions are like any other course and need to be assigned for your personnel to view/attend. They also can be added to your department custom catalogs. Users can only enroll for one offering of a course with Classroom Sessions.
Personnel may now Enroll in the course
Personnel click on the assignment's orange Select Course link.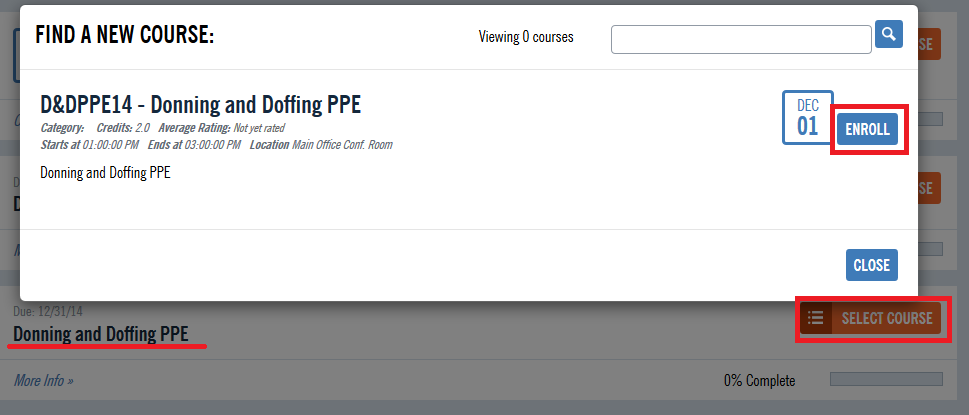 They should then click the blue Enroll button. The date of the session is also listed here.

The Home screen updates the assignment to look like this:
If there are any pre-attendance components, they are able to start the course and view them. By clicking Cancel Attendance, they can unenroll from the course. Once they have reached the Attendance component, they will see the title, location, date/time, and the message, "An instructor must record your attendance in order for you to continue," if they have not been marked for attending the classroom session.
4. Managing Enrollment – Viewing Enrollees

Go to Training Manager and access Classroom Sessions from the left menu. Click on the Enrollments button for your course session.

To unenroll a person from the course, click Unenroll.
5. Track Attendance

Go to Training Manager and access Classroom Sessions from the left menu. Click on the Edit button for your course session.

At the bottom of the page, you will see the Attendance Tracking area where you can click Record Attendance to mark who has attended.
Once you have marked all who have attended, click Update Attendance and Save Changes.
6. Reports for Classroom Attendance
Four reports are available to help administrators and training officers. The other course/assignment related reports can also be used.
Classroom Attendance Report – Used to track who has attended a specific session
Classroom Attendance Exception Report – Used to track who has not attended a specific session.
Classroom Overall Attendance

 

– Used to show who has registered for, or has any progress , across all sessions of a course
Classroom Overall Attendance Exception Report – Used to show who has not registered for any session of a course.
Please note the following:
Administrators have the ability to manually enroll personnel in classroom sessions.
Courses with classroom sessions may not be shared with other organizations
If a course has online components, a survey must be completed for a user to earn a certificate and complete the course.
Personnel that can Manage Courses can manage Classroom Sessions
Personnel that have no set site management roles can be selected as instructors of a course and can manage that particular course, but cannot create new courses or classroom sessions.
Classroom Sessions can be made inactive.
If a course with attendance components is made inactive, it cannot be selected in the Create Classroom Sessions drop down.
Please click here to view a step-by-step tutorial video of how to utilize this application.